Wednesday. 5.12.10 2:32 pm
I actually managed to sell something on ebay, this lip and cheek stain. So I went to the post office to send it off, complete the process and all that. And I notice it's leaked a bit, so I think I'll screw the lid on extra tight to make sure it doesn't all spill out in the post.
I start screwing, and the lid and half the bottle breaks off in my hand. Red tint everywhere, hands, floor, the small children in front. Smooth or what?
Wish me luck when I try explaining this to the expectant buyer...
Comment! (5) | Recommend!
Sunday. 5.2.10 4:40 pm
And now turning 20. Good Lord. but anyway....Hi :D Long time no blog. Time to start up again? xxx
Comment! (4) | Recommend!
Thursday. 1.3.08 3:47 pm
Hey, as I am mean to be working on an essay right now, I can't write a long blog, but I want to wish everybody HAPPY NEW YEAR!!!
...I can't believe I'm going to be 18 this year...*panic*...
Comment! (4) | Recommend!
Monday. 12.24.07 12:31 pm
First of all, WOOHOO that nutang is back!!! Yay, now you guys get to hear all about my jolly adventures and exciting life, won't that be fun?...
the doors are locked, there's no escaping now...muahahahahaha
I haven't been feeling particularly christmassy at all until today, but for some reason I suddenly got very excited about it. Until about 3 seconds ago when my mum came and said that she'd 'only gotten me a few small things', and the gifts which I had ordered from amazon.co.uk (for myself...how sad can you get?), to make sure that I actually had something on christmas day, hadn't arrived. My parents both seem to be incapable of buying presents for me. They have no idea what I like, so they just don't get me anything...i tried dropping a few hints this year though...but apparently they didn't sink in. *sigh* oh well, at least I managed to get all my christmas shopping done for my little brothers and sister...which is pretty much a miracle seeing as how I left it until last friday to go shopping for presents XD
I'm currently quarantined in my room. I have a horrible cold, and I'm not allowed to give it to anyone else in my family...thank goodness for SnS and Kuri, who have actually managed to give me some Christmas Cheer...SnS for the Secret Santa, which I got a litle too enthusiastic about, and Kuri for the amazing panda-fairy alliance day XD
Do I have pictures of Panda-Fairy Alliance Day? Why yes, yes I do....
PANDA EATER!!!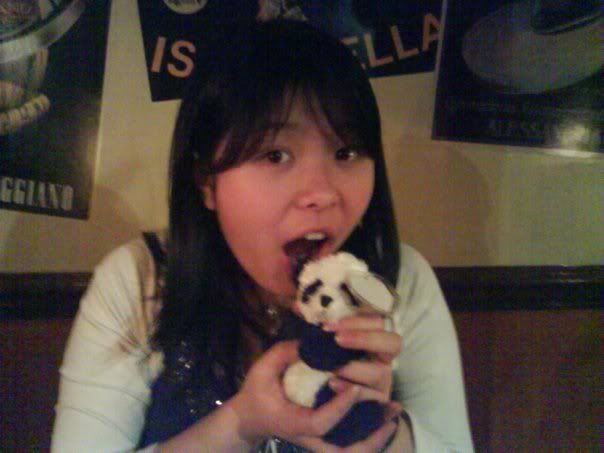 MERY CHRISTMAS EVERYONE!!! *GLOMP*
Comment! (5) | Recommend!
'The Birth of Venus' - Replica
Wednesday. 11.28.07 2:09 pm
University Choices *has meltdown*
Sunday. 11.25.07 4:37 pm
OK, final university choices have been made....alli need to do is check over my Personal Statement and my UCAS application is ready to go....I'm so so nervous, im terrified that i wont get accepted anywhere. It's kinda depressing that i go to a hugely academic school, where the average in the I.B is 38 points, and i got predicted 37 points. It's also kinda ridiculous considering that 36 points in the I.B is meant to be equal to 3 A's at A Level....I wish I'd done more work for my predicted grades, but i didnt think they'd be so important, as until 2 weeks ago i was set on taking a gap year, and applying with my actual grades....
ok, here are my choices:
1st choice: Warwick
2nd choice: Bristol
3rd choice: York
4th choice: UCL
5th choice: Loughborough
I'm applying to study English (and creative writing)....wish me luck!!!
Comment! (6) | Recommend!